Spoons, and How to Start a Good Conversation
Last updated: September 2022
Before you begin reading this article, do you need an explanation of the spoon theory?
I have a patient with severe chronic migraine who I took care of many years ago. She got somewhat better and was able to complete her education, and have twins. After that, her migraine worsened, and we have not gotten her migraine into very good control.
A few months ago, I judged she might be at a place where she could not work but might be able to volunteer to work a few hours for Miles for Migraine, a charity whose board I am on. This is something I try to do carefully, and only if a patient seems to be at a place in their life where it might make sense for them. She seemed interested, but she never did volunteer.
Using spoon theory to explain migraine
At her next visit, trying not to let her feel bad about it, I said, "I understand, you just didn't have the spoons for it."
This led to an explanation of spoon theory, since she had not heard of this.
Apparently, our conversation hit a chord. She told her husband, and he went out and bought a beautiful antique spoon, which he had made into a necklace for her.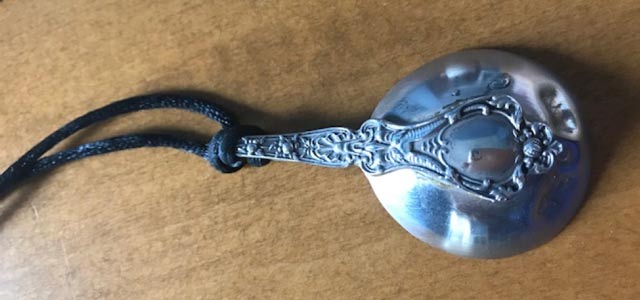 My patient's mother had demonstrated a lack of understanding about her disease and had been saying those little ignorant things (I call them microaggressions) that are so hurtful to people with migraine. When she saw my patient wearing her new spoon jewelry, they had a conversation about it that helped her mother to understand her disease better and improved their relationship.
Confronting the stigma
As a community, we need to find ways to address the stigma of migraine by confronting it and having conversations that may be difficult but just might change the hurtful perceptions of others. We cannot let a culture that is so cruel and ignorant toward people with headache diseases go unchallenged, and we know that only the people with the disease, or in some cases their loving family, can change disease perception.
Using symbols to raise awareness
We should use the symbols that are out there, like spoons in this case, or perhaps find new ones to catalyze these all-important conversations. CHAMP, the Coalition of Headache and Migraine Patients, has a committee to think of new ways to do this. We have finalized recommended language and images to use and not use that we hope will reduce the stigma of migraine. We are hoping to find ways for patients to share the successful and unsuccessful ways they have confronted their stigmatizers, so we can learn from one another.
Right now, there is the purple ribbon, the Miles for Migraine and Runnin' for Research walk/runs, and of course, the spoon. Are there other symbols that could represent another aspect of migraine disease (or cluster headache for that matter) that we should be using? I think another surprising and interesting symbol might be helpful. Do you have a suggestion?
This article represents the opinions, thoughts, and experiences of the author; none of this content has been paid for by any advertiser. The Migraine.com team does not recommend or endorse any products or treatments discussed herein. Learn more about how we maintain editorial integrity
here
.

Community Poll
Do you have a migraine toolbox for when an attack hits?