Topamax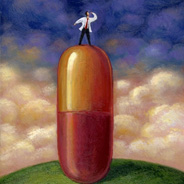 Highlights
Topamax Overview
Topamax Dosage
How well Topamax works
Topamax Uses
Topamax Side Effects
Drug Interactions
Precautions & Warnings
Special Warnings
Pregnancy & Nursing
Generic Topamax
Topamax (topiramate) for the treatment of migraine prevention: an introduction
Topamax, first approved in 1996, is an anticonvulsant drug available in regular tablets and in sprinkle capsules. Topamax is approved for preventing migraines in adults as well as for treating epilepsy.
A generic version of Topamax, topiramate, won U.S. Food and Drug Administration approval in 2009 for preventing seizures.
How Topamax works for the prophylactic treatment of migraine
Often, the exact way drugs work are not known. That is the case for Topamax. Research suggests there are several ways Topamax might work – by Topamax blocking certain pathways, changing the activity of the neurotransmitter gamma-aminobutyrate and impacting other brain activities.
Topamax's effectiveness
People who suffer from persistent migraines typically take preventive medications to reduce the number of migraine attacks. Each person has a different experience with Topamax. The clinical trials of Topamax showed that the drug significantly increased the period between migraines when compared to an inactive placebo, which is also called a sugar pill. The number of migraine attacks in four weeks was cut by 25 percent for the lowest dose and the number of attacks were cut in half for the highest two doses.

Forms of Topamax available
Topamax Tablets
Topamax Sprinkle Capsules
The Topamax Sprinkles can be taken by swallowing the entire capsule or by opening it up and sprinkling the contents on a small amount soft food, such as applesauce, that doesn't require chewing.
Topamax dosing for migraines
The U.S. Food and Drug Administration approved label for Topamax recommends that patients start on 25 mg of Topamax every night for one week. The second week, patients should take 50 mg, then move up to 75 mg the third week and 100 mg the fourth week. The final recommended dose is 100 mg each day, divided into two doses. So the patient should be taking 50 mg in the morning and 50 mg at night.
Most common side effects of Topamax for migraines
Abnormal sensations, parasthesia
Lack of appetite
Weight loss
Drowsiness
Nervousness
Slowed reaction times
Memory problems
Difficulty concentrating and with attention
Confusion
Speech and language disorders, trouble finding words
Psychiatric or behavioral disturbances
Depression or mood problems
Serious side effects
Topamax is listed as Pregnancy Category D, which means there is evidence of fetal risk but the benefits may outweigh the risks in certain situations. Topamax and its generic versions may increase the risk of cleft lip and cleft palate birth defects in babies born to women who use the medication during pregnancy.
Topamax and similar drugs increase the risk of suicidal thoughts or behavior. Seek immediate medical attention if you or someone taking Topamax experiences new or worsening depression, suicidal thoughts or behavior or any unusual changes in mood or behavior.
Topamax can also raise eye pressure, which can lead to permanent vision loss. To stop this side effect, stop using Topamax immediately.
The medication can also lead to lack of sweating or elevated body temperature.
Because of the cognitive and thinking problems Topamax can cause, patients should use machinery and automobiles with caution.
Who should not take Topamax for migraine prevention
If you are pregnant or planning on becoming pregnant you should discuss the potential risks and benefits of Topamax with your doctor. Topamax is listed by the FDA as Pregnancy Category D, and may increase the risk of cleft lip and cleft palate in babies born to women taking Topamax while pregnant.
In patients with kidney stones, do not use Topamax with other carbonic anhydrase inhibitors, other drugs that cause metabolic acidosis or if you're on a ketogenic diet.


As always, the best source for advice on preventing your migraines is your own migraine specialist. These medication descriptions are provided only for informational purposes. You should begin no medication regimen without first checking with your physician. Again, this information should in no way substitute or be mistaken for medical advice.

Written by: Otesa Miles | Last review date: November 2010