Top Ten Reasons Why RetreatMigraine Was Amazing
Last updated: November 2021
I had a blast teaching Yoga for Migraine and attending RetreatMigraine 2021 in California! Here are my top ten reasons why RetreatMigraine was so amazing:
1. Location, location, location
We were literally across the street from the ocean in Redondo Beach! We enjoyed long walks on the beach with fellow participants and even got to see two pods of dolphins swimming through the waves.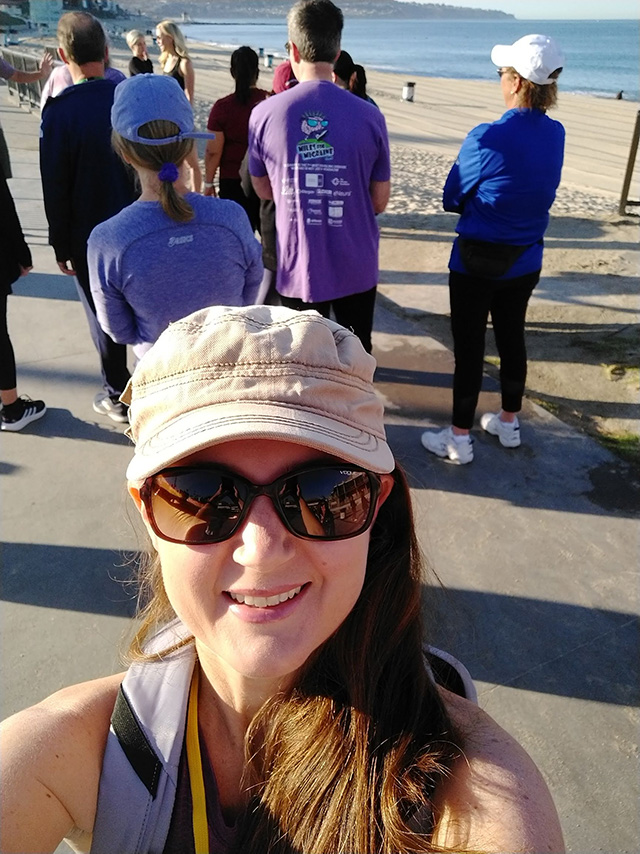 2. The event was super migraine-friendly
There is no other event that is so tuned into the needs of people with migraine. The organizers and volunteers of RetreatMigraine thought of everything. Instead of loud clapping, we waved fun wands with streamers. We even received fragrance-free toiletries generously donated by Hello Seen.
3. There's something for everyone
There was something for everyone to feel supported, inspired, and better-informed about migraine. The diversity of sessions included support groups, community member stories, educational talks with doctors, cooking demos, Yoga for Migraine with yours truly, and much more. There was even a device room to try on the latest migraine devices, a green light therapy room, and a craft room to explore.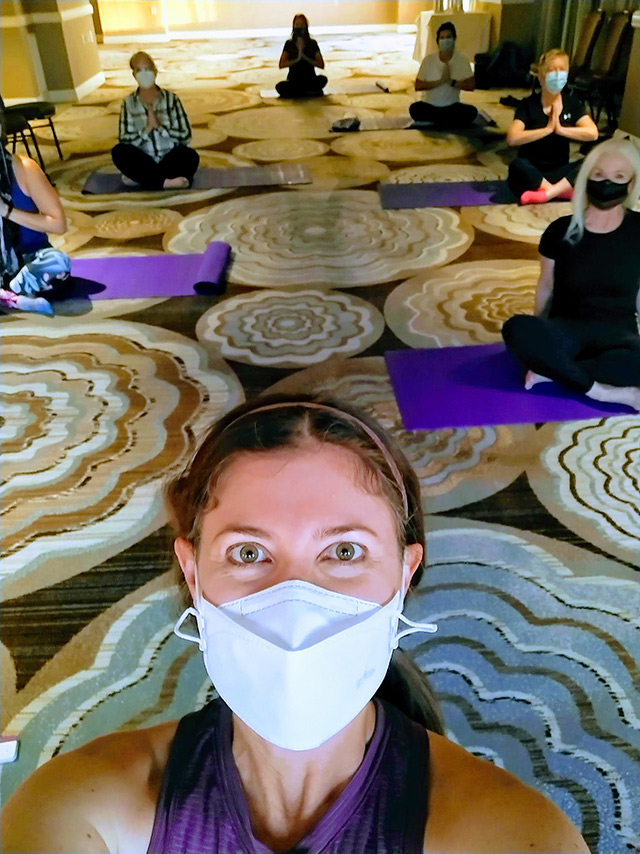 4. CHAMP rocks!
The CHAMP team who organized RetreatMigraine are some of the most dedicated, fun, and welcoming people I know. I've been working with the CHAMP team virtually for the last two years, and this was the first time I was able to meet them all in person.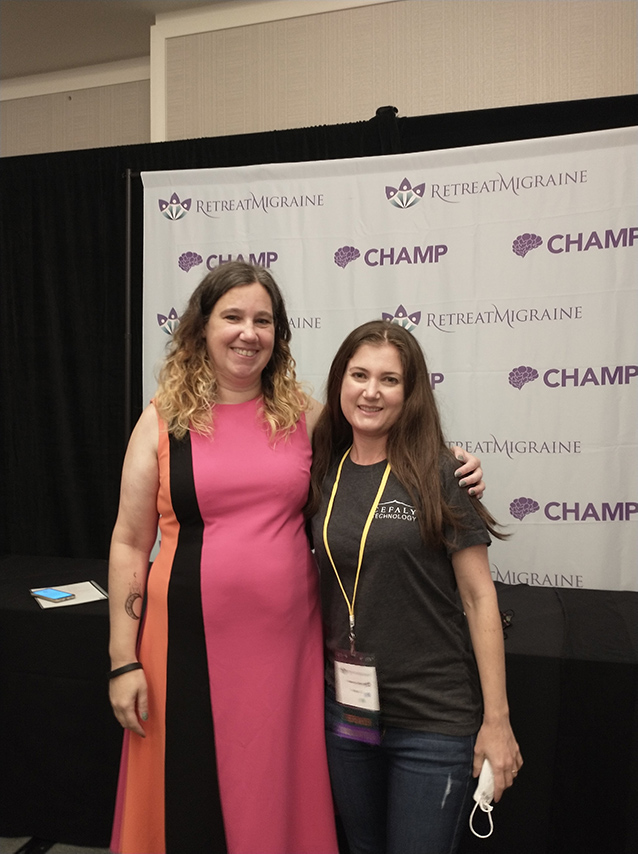 5. It's like a family reunion
It was a migraine family reunion with so many people that I had only met online. I finally met many of my dearest Yoga for Migraine students for the first time in person. It was incredible to actually do a real live yoga class with them all instead of on Zoom. In fact, RetreatMigraine was the first time I had taught yoga in-person since before COVID. RetreatMigraine was the most in-person socializing I had done in years!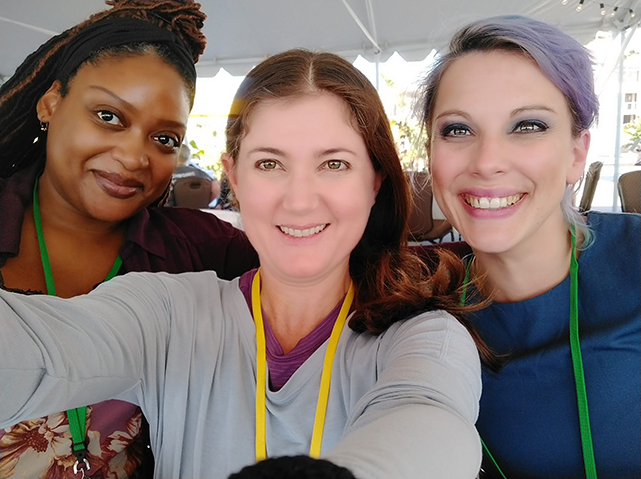 6. There were swag bags
You get a goody bag stocked with valuable migraine swag, plus the opportunity to snag even more prizes at the Giveaway Bonanza. Yoga for Migraine contributed free online yoga packages to all the participants, plus we got tons of supplements, ginger products, a high-quality Vog Mask, among many other wonderful items.  I was thrilled to snag a pair of Theraspecs glasses (I'm wearing them right now as I type) and a new Achy Smile shirt (which I'm also wearing right now!) at the Giveaway Bonanza. Thank you, generous sponsors!!
7. There were lots of food options
The food was really tasty and quite plentiful. There were vegetarian and gluten-free options at every meal. They even had to-go boxes available for those who preferred to eat in the peace and quiet of their own rooms.  Did I mention that all meals were held outside overlooking the ocean?
8. It was COVID-Safe
The event was super COVID-cautious. Kudos to the CHAMP organizers for putting so much thought into keeping us safe. All participants who attended in-person had to provide proof of vaccination, wear masks indoors and get COVID-screened every morning. They even had a system for participants to signal the amount of social distancing they were comfortable with. Red lanyards meant to stay six feet away, yellow meant elbow bumps were good, and green meant "open for hugs."
9. There was a virtual option
There was a virtual option for those who wanted to participate from the comfort of their own homes. There were basically two different events running the whole weekend for the in-person and virtual participants. The virtual agenda had some live broadcasts from the live retreat and their own unique set of sessions. Virtual participants still had the option to get a swag bag sent to them in the mail, as well.
10. RetreatMigraine was FUN!
We enjoyed a surprise concert at our pajama party from the talented singer Allie Sealey, whose life was transformed by chronic migraine. She wrote and performed this touching song, "Not All in Our Heads," about her experience with migraine.  I think every person with migraine can relate to this song.
You are not alone
RetreatMigraine was an uplifting and empowering experience for anyone living with migraine. It was mind-blowing to look out at a sea of 150 people and know that every one of those people knows what it's like.
You are not the only one...
to be dealing with invisible pain that nobody else can see.
who has trouble finding the right words.
that needs to call it in early at the end of the day.
At RetreatMigraine, we all get it. We all support you. And you are not alone.
I hope you can join us at the next RetreatMigraine on April 1-3, 2022, in Charlotte, NC, or virtually!
Did you attend RetreatMigraine in-person or virtually this year?  What was your favorite part of the experience?
This article represents the opinions, thoughts, and experiences of the author; none of this content has been paid for by any advertiser. The Migraine.com team does not recommend or endorse any products or treatments discussed herein. Learn more about how we maintain editorial integrity
here
.

Community Poll
How many medications do you take to manage your chronic migraines?